Level 10 : -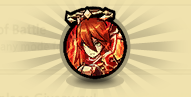 Uriel, along with Mikael & Lucifer were archangels controlling the flame of love. You brought destruction upon corrupted lands with your God-given sword of black flames. People referred to Uriel as the Angel Of Destruction.
Uriel came to the mortals with God's command to destroy corrupted lands & fitting the name, he brings swift judgement to those who deserve it.
Uriel comes down to the mortal realm to bring destruction to (?)
Uriel purges all countries that have become corrupt. [Now she no longer trust and humans] (?)
To Be Continued.